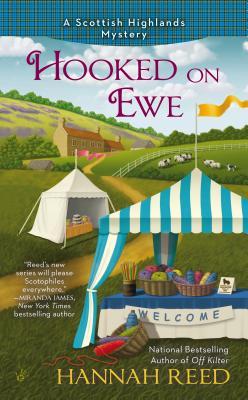 Summary: Eden Elliot is a writer who is visiting Scotland for writing inspiration. She is attending the local sheepdog trials (which are a huge deal in the community where she is staying) when one of the organizers is found murdered with yarn made by her dear friend Vicki. Eden can't help but join in the investigation of the case, especially when she is recruited to be a special constable.
My rating:
3/5
If you love Scotland then Hooked on Ewe  is a book you probably will like. The author really caught the culture and feel of the country in her work and I think the setting was one of the most enjoyable parts of Hooked on Ewe. I certainly learned many new sayings and expressions. I really could imagine myself there from the authors descriptions.
Eden is a great character. She has lots of brains which is great since she is a romance writer and sometimes people think of them as a bit less brainy.  I also loved her loyalty to her friends and how willing she was to be a special constable even though she was new to the community and only a temporary fixture.
I found the mystery so so. There were many suspects and I didn't have any idea who it was until right before Eden found out. I didn't really have the feeling like it was the right or wrong person who actually did it. I just kinda felt bleh about it.
I had a hard time staying focused on this book. It wasn't a page turner for me and at several times I felt like I could have put the book down and walked away without feeling bad about never knowing who did it. I'm not sure if it was the books rather slow pace (probably intentional because we get the feeling that life in Scotland is a bit on the slow side and maybe the book was reflecting the setting) or if it was just too many side characters and their stories. Again, I think it had to do with being true to setting and I can't fault the book for that but it just wasn't right for me.
I would recommend this to anyone who doesn't mind a slower read. It was a good book but it just wasn't a good fit for me. I need something that makes me desperate to find out what happened.