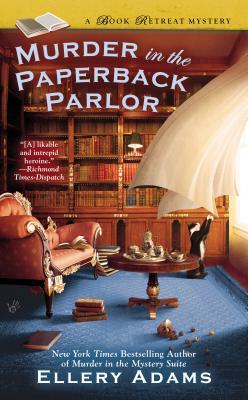 Summary-Jane is part of a special group of guardians who protect rare manuscripts.
She also runs retreats for book lovers. During a Regency romance retreat the most famous author of their panel is murdered and it is up to Jane to discover who did it and why.
My rating:
5/5
This was not the first book in the series and during the initial pages I was worried I was going to feel lost but the author quickly and seamlessly got me up to speed and I understood what was going on.
I really enjoyed the characters. Jane is appealing because she isn't just another book loving detective. She is trained in self defense and weapon use to defend the rare books which makes her stand out from many other cozy mystery heroines.
The mystery itself was fun and interesting. The murdered author had just released an advanced copy of her next book to the retreat when it created a stir because it was different than what she had written before and it made many of her core fans angry. It made everyone at the retreat a bit of a suspect and I liked that the killer ended up being a reasonable suspect. I read lots of mysteries and I hate when killer feels out of left field.
I also enjoyed many of the secondary characters. The retreat Jane owns is part of a small town and there are many fun characters in town who help and hinder the investigation.
I already ordered the first book in this series and plan to read others as they are released.
I recommend this book to anyone loving cozy mysteries. It was a good one.